In increasingly dynamic and competitive business environments the priority on efficient working processes as well as investment returns have dramatically increased. This is a trend seen across all business functions and in a variety of sectors as organisations look to become more agile, cut waste and deliver more.
This is particularly true across the Project Management function. Organisations now see what benefits a PMO team can bring to the business area. Some of these can include:
Quicker identifications of project risk
Better project scope control
Budgeting benefits
Clearer understanding of timescales and adhering to agreed time parameters
Seeing the host of benefits a PMO team can offer, it's not surprising that organisations are increasingly turning to consultancies to support them in setting this up. A wise move, but important to be aware that implementing a PMO is not always the fairy-tale ending to Project Management concerns, as there can be a high risk of failure if not orchestrated correctly…
According to the Association for Project Management: 'PMOs have the highest failure rate of any department in an organization, with an astounding 50% of PMOs closing within the first 3 years'
Typically, PMO issues arise not from the tools, processes or people involved but usually due to mistrust of information given by the PMO (58% of stakeholders take information form the PMO to be realistic) and sometimes because of the workload of the PMO team – often they are sharing the work burden of the project team and are therefore too busy to be strategic.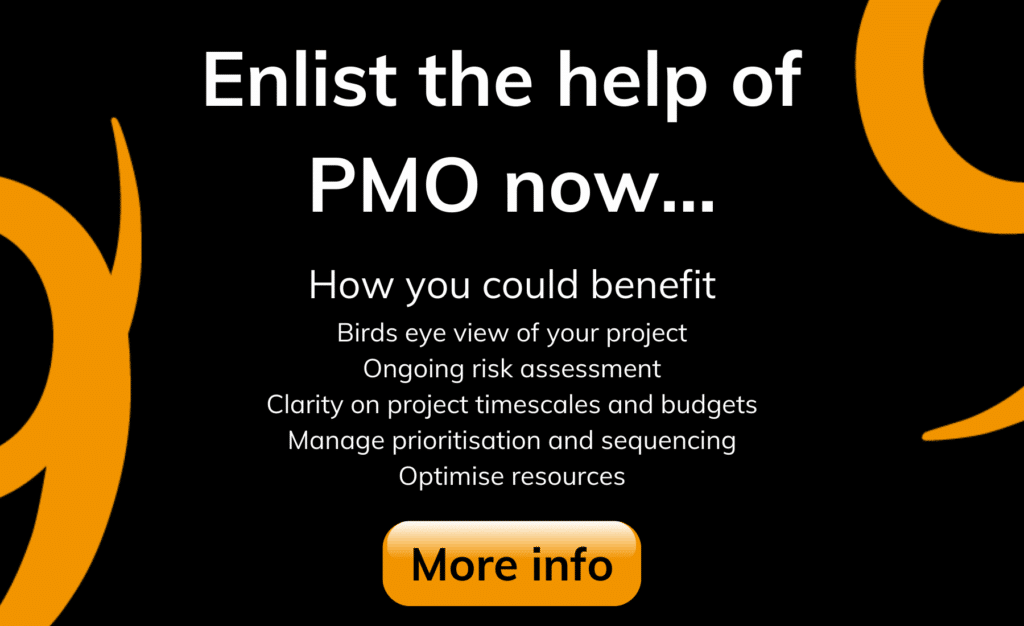 As well as making sure your PMO is set up for success, one other way to combat these issues is by introducing a PMO as a Service (PMOaaS) approach. PMOaaS is a service offering for a more agile and lean approach to having a PMO. Organisations can spend a lot of time and money building an in-house solution which may be lower performing. At Nine Feet Tall we use our expertise within the IT and service transformation process alongside our team of experts to create a 'best of breed' PMO function.
Characteristics of a PMOaaS approach include:
Utilising PMO specialists that have a wealth of experience and sector expertise
Scalability and flexing the number of specialists based on the need of the project through flexible resourcing.
Understanding of good PMO principals and the best environments in which these can flourish
Rapid start-up of the function with defined and standardised templates, processes and methodologies for everyone to implement and follow from day one. Using the right people to deliver a bespoke set up.
Does PMOaaS make sense for your organisation? If you want stakeholders to have more time for creating and delivering value through their projects, then yes. Your organisation could have a PMO working function immediately, allowing for improved productivity and a shared workforce.  As an example, when EDF adopted PMOaaS the results spoke for themselves: 'EDF hired 80% fewer contractors, saved project managers time and let team members focus on value-added tasks'.
For more information about making your PMO a success or to learn more about how PMOaaS can work for your organisation, contact EstherM@NineFeetTall.com
Sources
https://www.infosys.com/iki/insights/pmo-as-a-service.html
https://www.cps.co.uk/consulting/pmo-as-a-service/
https://blog.planview.com/turning-around-failing-pmo/