'Getting a change management methodology in place is key', in conversation with Rachel Watts, IT Business Partner at Simmons & Simmons
What is the starting point for the change towards a new legacy technology system?
'Something that we always start with is selecting our project board appropriately', having the right sponsorship paves the way for change. The project board should include a 'good cross section of business representatives as it can help with making good decisions early on and with the initial change analysis.
Another thing that is crucial for starting the change is getting the business involved early on: having two-way communication with the business and with your champions' network. Developing a communications plan here is so important.
What are some of the challenges you faced and how do you overcome them?
'Very often, there can be a lot of change going on in an organisation'. In law firms and in many heavily regulated organisations, there are many changes that happen outside of the organisation that you cannot control. Examples of these include Health and Safety legislation, Environmental legislation, Employment legislation and more. This in addition to each organisation's own 'jurisdiction' means that there is constant change happening. The impact of this constant change looks like a lot of noise coming into a lawyer's inbox, so this overload of change information balanced with the need to bill and delivery for clients can result in change fatigue. Overcoming this comes down to knowing how to target your audience with change messages, getting the inclusion and information balance just right not to feel like information overload.
Another challenge manifests as resourcing challenges. Commonly, many members of the various project teams are working on different projects simultaneously with a variety of deadlines. There needs to be good management of the portfolio and the programmes. Planning appropriately and prioritising the right projects is the key here. This requires a level of portfolio and technical change maturity.
Lastly, for organisations which have not updated their systems and processes in a while, they need to really consider their data strategy and data management. Think about an organisation which hasn't had any upgrades in years suddenly moving to a completely new system; in doing so they might realise a number of gaps and flaws in their previous processes. 'When rearchitecting to fit a new system to your organisation, you almost have to reverse engineer integrations, data capture, data flows and data processes.' Organisations must realise the amount of change needed before they can actually start the projects they have set to start.
How do you get the change culture right?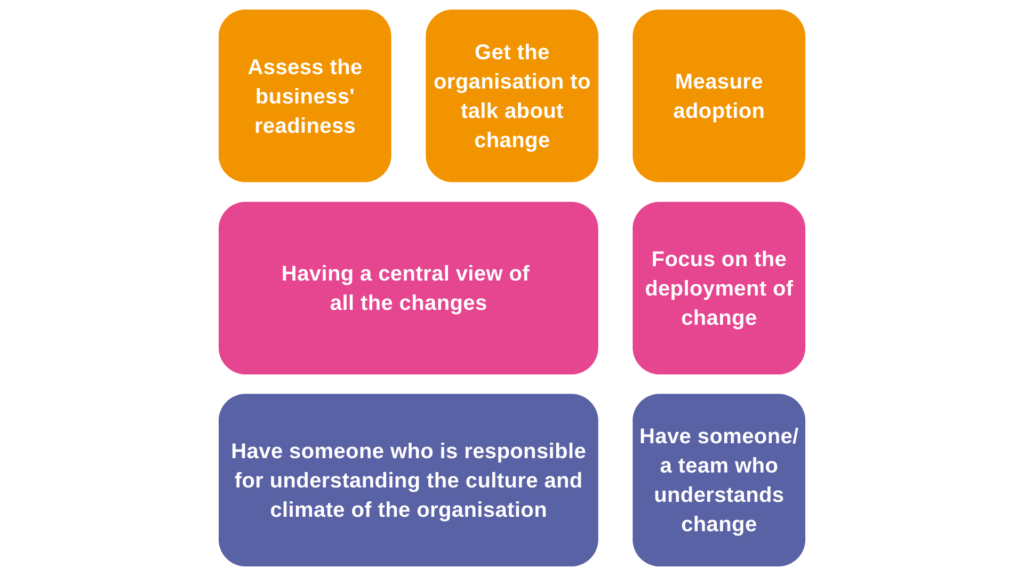 Any top tips/advice for others looking to replace their legacy technology systems?
'Ensuring your business operations has a holistic view and are not operating in silo'. Make sure that the thinking has not been done in silo. Have a holistic view and make sure the right people are in the room at the point you start talking about the change. Very rarely does a business process only impact one department or team, make sure all impacted are involved from the beginning.
'Get a change management methodology in place'.
A change manager can help manage the change projects as they understand change and what is required. Organisations very often under-estimate change fatigue, managing resistance and how hearts and minds plays a significant part in how people adopt new ways of working. Get the business to understand that change is not just about the communications and the training, it is about the end to end.
Do you think this move away from legacy technology systems is reflective of the current trends?
The Covid pandemic has accelerated the move away from legacy systems. For the industries and organisations that used to keep all of their IT technology in a room in their basement, this has really 'raised their IT departments up to be equally in part of the conversation relating to business strategy' because 'we are never going back to paper'.
'I think the legal organisations are catching up with the rest of the organisations, just not caught up quite yet.'
Feeling motivated to make the move yourself? Nine Feet Tall will work with you to take away the pain of system upgrades and accelerate your projects to get them over the line sooner and smoother. Contact us today for a chat!