The retail sector is fast changing.  Not a day goes by without a seemingly significant change in retail making the news. 2019 has seen the collapse of major retailers, the continuation of online growth and change in technology from supply chain advancements to artificial intelligence. As well as this data has transformed the way we shop and indeed the way we are sold to!
So where does the high street fit into this fast-changing picture and retail experience?* Much has been written about the death of the high street as 'out of town' and online make advancements to the detriment of traditional 'bricks and mortar'. Many high streets are experiencing a decline as the traditional local retail scene is transitioning to newer formats.
This, however, is not the end of the high street and retailers who can offer something compelling are surviving and indeed advancing against this wider picture. Central to this is the retail customer experience. Online sales, by all accounts, continue to grow, however,  offering a unique high street experience can complement rather than compete with online sales.
Retailers who can capitalise on locations, offer and create experiences and work around a human touch to enhance the retail experience are alive and well. There is a future for the high street albeit a new high street. For example, the growth of shared entrepreneurial workspaces as an example – technology allows us to work anywhere but humans want to be with other humans! Take Heaton Moor High Street in Stockport as an example of a local UK high street. A vibrant scene, not without its store closures, but with pockets of vibrant retail as unique retail thrives. Those that have adapted and complement online are progressing. Offering social spaces, a place to meet up and offering continuity to shoppers are keys to forward success.
Wine retailer 'Cork of the North' is a typical example. Many wine shops are closing as shoppers go online or to major supermarkets however, this one is different. Research has shown that still, even across most generations, shoppers prefer to buy in stores and the Cork of the North provides reasons to do that in a local high street beyond (just) the wine offer. Tasting sessions, wine-related talks, a food offering – all reasons to visit and stay as the traditional wine shop becomes a place of community, social interaction and experience.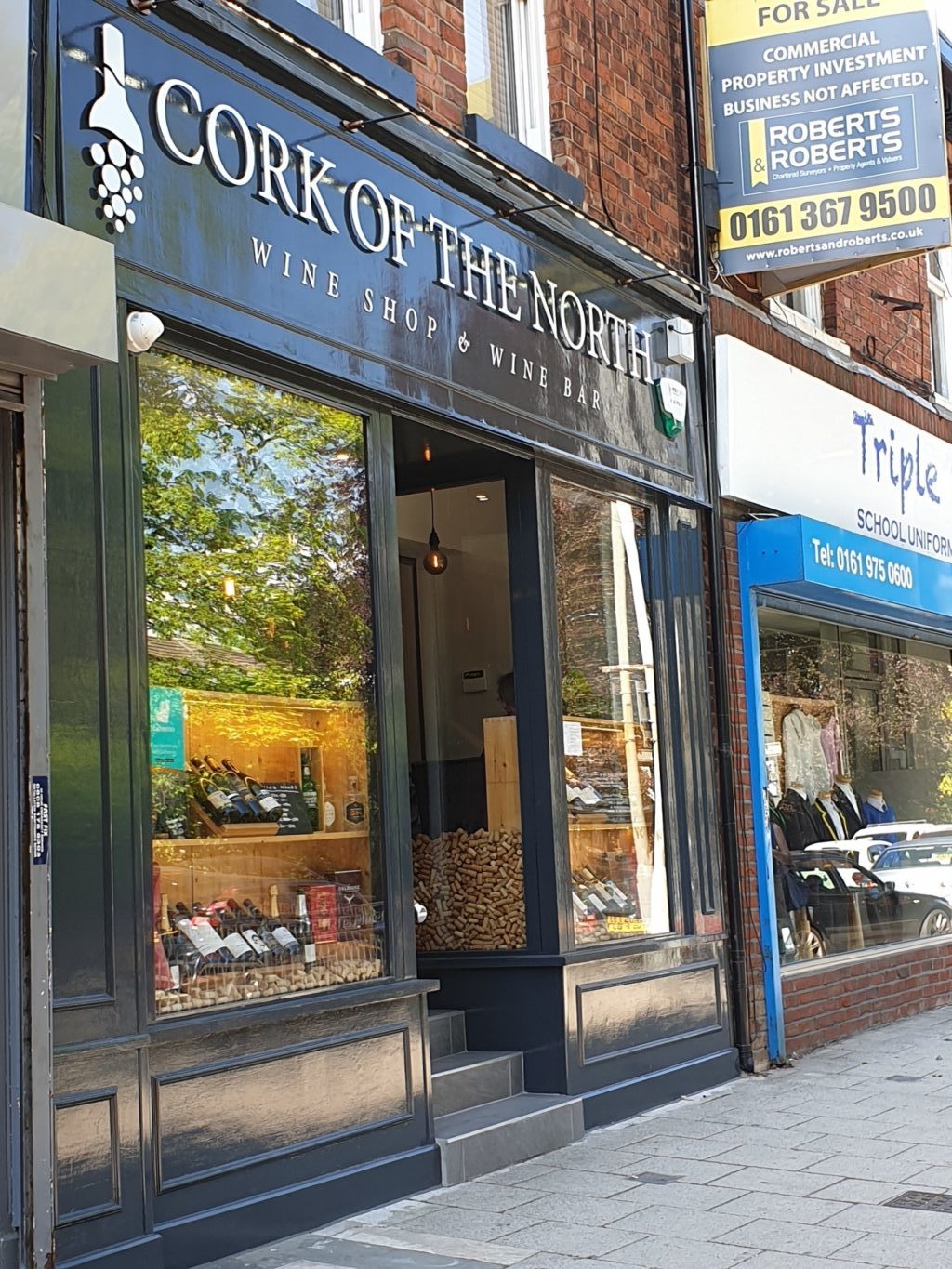 Photo: Cork of the North, Heaton Moor High Street, May 2019.
In summary, don't take 'death of the high street' at face value. Like Brexit there are many potential outcomes however, there is clarity that there is growth in bricks and mortar for those that can think in new ways to deliver a unique high street experience with an emphasis upon social interaction and uniqueness. New generations of retail customers are seeking more from their high street that can complement online. Retailers need to take a fresh look to survive, adapt quickly and forget many of the rules of success from the past. The high street is alive and well but in a changing way.
For more information about changes in the retail sector, please contact us here.
*Source: Blog inspired by ProManchester Retail & Ecommerce Event – The Changing Face of Retail, 23 May 2019, Manchester Hall.