A growing number of international firms have launched or are in the process of creating new Shared Service Centres (SSCs) to provide 24/7 worldwide support for their businesses. Central and Eastern Europe are fast becoming an attractive location for these hubs which allow firms to deliver centralised administrative finance, HR, marketing and IT processes alongside some remote support functions, providing the all-important balance between quality and value.
The benefits of using SSCs are tangible:
Ability to provide world-wide 24/7 support
Controlling and reducing costs
Optimising service delivery and improving the customer experience
Driving efficiencies through automation and robotics
Developing local centres of excellence
Improved MI/analytics
However, it can be challenging to deliver on all the promises made when these initiatives are first conceived and often the benefits are not fully realised for years, if at all.
It is time to ask the question why?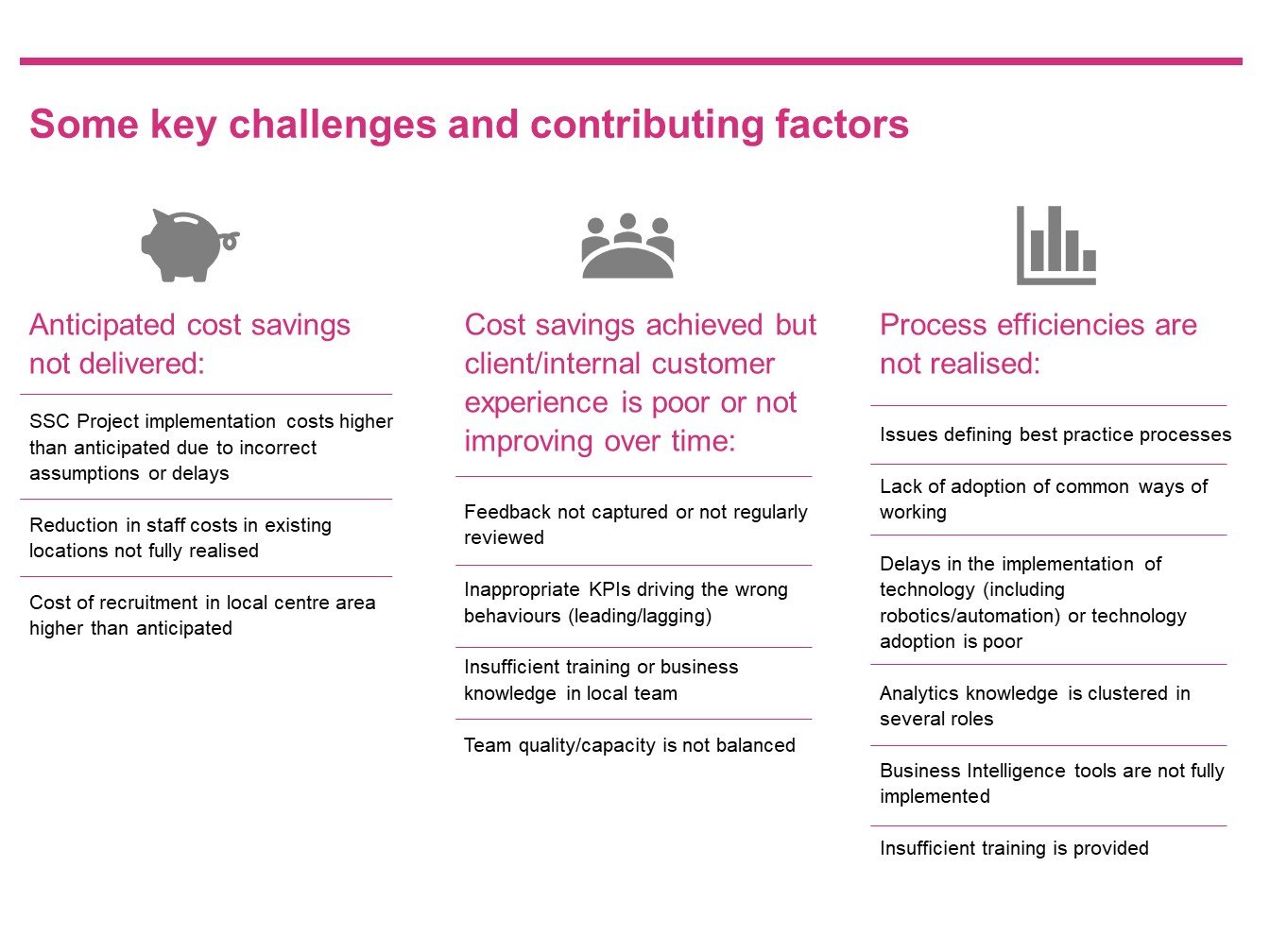 If you have an SSC project in your portfolio or are reviewing the performance of your SSC, here are nine questions to ask your project team now:
1. Does the project have documented benefits and success measures?
Review the benefits identified – are these measurable?
Who has validated the benefits?
Have baseline measurements been taken?
Who will be responsible for measurements during the life of the project and once the SSC is launched?
How and when will benefits realisation be reviewed?
2. When was the last review against the plan?
Are you comfortable the plan has sufficient detail?
Does the plan have clearly defined workstreams (e.g. Compliance and Risk, IT, Facilities, Operations, HR, Comms and Engagement)?
Is the resourcing allocated to each workstream realistic?
Are the timeframes realistic? Does the plan account for holidays, training, time to recruit etc.
If the SSC is in place were all the actions on the plan completed and was a lesson learned conducted?
3. Is there a detailed breakdown of costs and assumptions?
This should be in place and be regularly reviewed
If this hasn't been done in the last month, ask the team to review the costs and identify any potential items which are forecast to be over budget
The assumptions should be listed. Are the assumptions still valid?
Who have the costs and assumptions been tested with? Validate this is a sufficient check
4. How involved is HR?
If you haven't got the right team in place already involve HR early enough to ensure there is sufficient time in the plan to recruit (including notice periods)
Ensure salary bandings for the roles are checked – are they correct for the calibre of staff you need? Often hiring issues are related to the salary not being commensurate with the job description and person specification
Check you have got the right skill sets at the capacity you need for the anticipated volume of work? If the SSC is already in place, have the original volume assumptions been revisited to see if they were accurate?
Once the SSC is in place review the skillsets and experience required regularly as roles change, particularly with advances in technology and analytics and with time the scope of the SSC may expand.
Review the SSC employments costs versus the existing locations costs to ensure any headcount savings originally identified have been realised in the budgets for the following year.
5. Has an impact assessment been undertaken?
Key stakeholder groups who will be affected by the SSC should have been identified and an impact assessment undertaken for each group?
This should identify any transition activities which should be put in place to minimise disruption
Where the SSC is running the impact of any transition activities should be reviewed to see if they have been sufficient or whether further support is required
6. Are you capturing customer feedback?
If the answer is no, question what quality measures are or should be in place?
Capturing what is happening before the move to an SSC is important as it will highlight key areas which should be addressed in the design
If the SSC is already in place, review any feedback received and identify key themes for further review
7. What KPIs will be/are in place?
Review the KPIs. What behaviours are you trying to drive?
Are your KPIs lagging or leading? Lagging indicators are typically output based and easy to measure but difficult to improve or influence e £ value of WIP. Leading indicators are typically input based, potentially hard to measure but easier to influence, i.e.% of WIP cases unbilled for longer than x time
8. How have business processes been documented?
Have these processes been tested in a model office?
What training will be provided?
How will you measure conformity and efficiency improvements?
9. What is the applications architecture or technology solutions for the SSC which will support driving efficiencies?
Review the original delivery plans. Are these still on track?
What plans are in place for communication, engagement and training?
How will adoption be measured?
If the SSC is in operation is the technology roadmap still relevant to the current needs?
If you would like any more information, get in touch today by clicking here.