Can you believe it's been nine months already!? I can't. Following on from my blog about my first nine days at Nine Feet Tall, I wanted to follow up with what has happened since…
I have now met everyone in person. At Nine Feet Tall we have quite regular Company Days where we all meet in person, have some fun but also do some important things like inputting into our 2022-2025 strategy. We also have an annual "Away Company Day/s", and in 2021 we managed to spend two days in a hotel in Oxford focusing on team building. As someone who joined in a pandemic, where remote working has been the precedent, this time with my colleagues enabled me to very quickly feel part of something special.
I have become a mentor and I now have two mentees who are both excellent. My role as a mentor is to challenge, advocate and guide them into being the best they can be. We discuss their client team dynamics, work they are doing, work they would like to do, and their areas for growth. I like to think of myself as a fairy godmother, (minus the magic wand).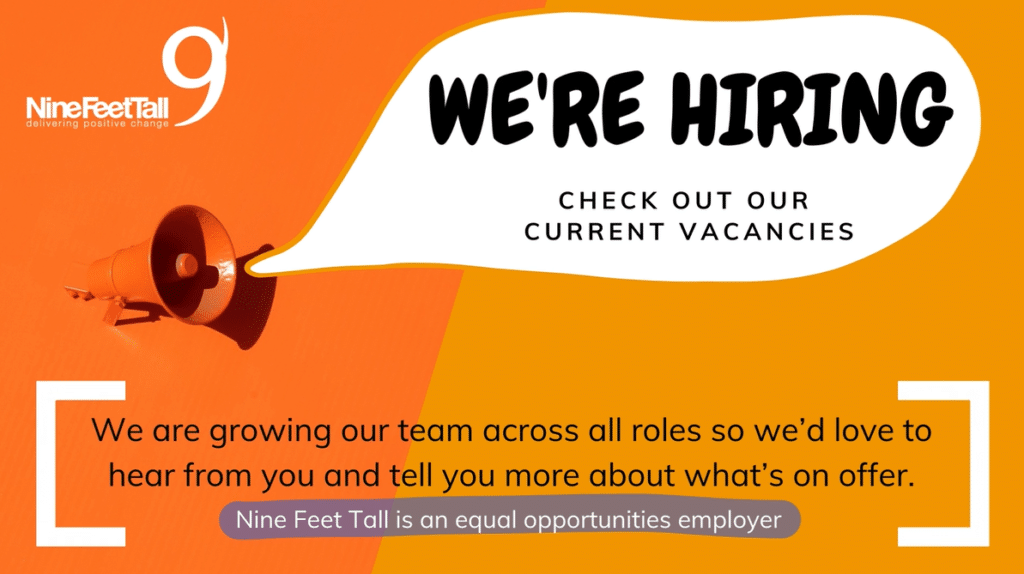 I have become Nine Feet Tall's Learning and Development Lead. I am passionate about my personal development, and this has resulted in me being passionate about my colleagues' development too. This naturally transitioned to getting involved in the logistics and planning of development opportunities for the team. Training at Nine Feet Tall includes training for our 9 Start Programme, mental health training, training for mentors, as well as accreditation opportunities for the team in subjects of their choosing. My role involves keeping an eye on the budgets, planning and actioning the strategy, providing guidance and booking training where required.
I embedded within a client and I have really got my hands dirty working on the implementation of an ERP system for my client in the retail sector. Those working on the project from Nine Feet Tall have changed, but I have been a constant for them since May. This enables me to really challenge the client, raising areas of concern and assisting with detailed planning for testing and cutover.
In January this year I went on a course to build my understanding of programme management to help me provide better advice to my clients and understand the structure of a good programme. I learnt all about the seven principles, themes, and processes. I am now creating a short but sweet explanation to share my knowledge and how we can apply this within multiple roles within the business.
I am genuinely excited for what's next. As I mentioned before I love learning and what is truly great about Nine Feet Tall is that it's always a team effort. There is always someone willing to offer their time and experience, and don't question when I ask for pet pictures on the team Whatsapp!
Nine Feet Tall are currently recruiting, so if this has tempted you to find out more, please do. For more information click here or contact moniquee@ninefeettall.com