Recently, larger law firms have begun embracing Design Thinking, Legal Design and Systems Thinking techniques to help re-imagine the future of client service delivery. Is this trend a breakthrough in innovative communication – or hype which will be forgotten down the line?
We think it will be here to stay. The Lawyer recently shared that DLA Piper has trained more than 500 lawyers and staff members on Design Thinking strategies during the first lockdown period of 2020. This is part of its Radical Change Strategy to support clients on more than just their legal issues when it comes to the recovery period. As part of its Innovation & Best Delivery Programme, Clifford Chance has also trained teams to adopt Design Thinking. These and other firms have realised the power of using Legal Design to re-imagine the future of client service delivery. Have you?
Design Thinking and Legal Design – What is the big deal?
Design Thinking is a creative technique for solving problems.  It encourages teams to think about the people they are designing services and solutions for – then to really understand what challenges they face before starting to create solutions. This is to improve the quality and relevance of the resulting products, services and processes.
Tim Brown, CEO of IDEO (a global design consultancy) explains
"Design thinking is a human-centered approach to innovation that draws from the designer's toolkit to integrate the needs of people, the possibilities of technology, and the requirements for business success."
— Tim Brown, CEO of IDEO
 Legal Design is about taking the Design Thinking framework and applying it to the design and delivery of legal products and services. This can involve one or a number of elements:
Simplifying and digitising processes
Use of smart technology
Visualisation techniques
Removing 'legalese' and replacing with simple 'human' language
All of which are adopted with the ultimate aim of providing a better experience for your clients.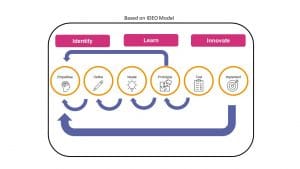 Providing a simple framework
Design Thinking provides a framework to use, but it isn't linear. It is all about iteration and learning.
The key elements are:
Asking the right questions and exploring and understanding the problems your client (or dare we say customer) has.
Taking this new found empathy to define the problem you are trying to solve.
Creating new thinking around how you may be able to solve the problem, due to your deeper understanding of it.
Developing simple prototypes or mock ups of solutions which can be tested with customers straight away.
Learning as you go and feeding this learning back into your design cycle.
 Why this is helpful for Law Firms?
It focuses on the use of empathy – to listen and engage with our clients and really put ourselves in their shoes. To think of them as the dreaded c-word…..customers!
So often we see the first step taken by many organisations is to jump to ideation – the potential solutions, without really understanding the problem you are trying to solve.  Design Thinking requires us to cast aside our assumptions and pre-conceived notions of what clients want and to really listen. One of the most memorable statements from the last Legal Design Geek conference was "Your assumptions, whilst interesting, are irrelevant!"
Iteration is about not trying to perfect on the first attempt. This is a key concept for teams to grasp. It goes against the grain – having been drilled from the earliest steps in their career that 80% right is not an option. So often the biggest challenge is to change that mindset and get comfortable with trial and error.
It opens up discussions for firms to explore the potential of collaborating with designers and other experts in user experience. 
An example of what it can do 
One example of Legal Design is Visual Contracts. These take the core legalities of a contract and simplify them for the client using illustrative graphics. In 2019 the Financial Times reported:
"Shell worked with the International Association for Contract and Commercial Management to develop "visual contracts", which replace complex clauses with plain language and visual design. This increases efficiency in negotiations and leads to better relationships. Shell's pilot contract has been used in 150-plus contract negotiations. It worked with legal tech company Elevate to analyse legal and business requirements."[1] .  Shell and other organisations use Visual Contracts to provide their clients with a better understanding of the legal technicalities involved in their arrangements.
Stanford Law's Legal Design Lab also uses design thinking techniques and has created a number of products and services including app developments, visual court guides and eviction tools[2].
This is Legal Design working in action.
Feel the fear and do it anyway 
What stops so many teams from adopting Legal Design to truly collaborate with clients to solve problems? Some of the common concerns are:
Fear of feedback – asking too many questions about what can be improved and then getting what might be perceived as negative feedback.
Fear of failure – "what if we invest this time and it doesn't work?"
Need for perfection – wanting to be 100% right before releasing products and services for testing
 How can we combat this?
Engender a culture of continuous improvement and feedback – encourage teams to seek more feedback in the course of their everyday work.  From peers and clients, on every piece of work they do. Conduct lessons learned and post matter reviews to embed this into the culture.
Review your expectations – discuss and agree how many initiatives you expect to be viable to launch and how many will be a learning curve. Test whether these expectations are too high based on industry standards and experience.
Lessons learned – highlight what perfectionism leads to – every law firm has projects which have been laboured on for months if not years.  By the time these projects are live the needs have often changed. To counter this, see if you can find examples within practice areas where viable ideas were quickly mocked up and tested, which have led to benefits and learning for teams and clients.
What do you need to get started?
 To get started, all you really need is a group of willing volunteers, a problem to solve and someone who can confidently lead a Design Thinking exercise. Things may not go plan, it may be messy and imperfect – but until you try it you won't start learning! To discuss how Design Thinking can transform your organisation and client experience please contact Tiggy Robinson on 07826850191 or TiggyR@NineFeetTall.com
[1] https://www.ft.com/content/032ddcb0-e6b1-11e9-b8e0-026e07cbe5b4
[2] https://law.stanford.edu/organizations/pages/legal-design-lab/