Change can be scary and for organisations, it can be particularly daunting. Simply put, culture is an organisation's set of internal values, principles and norms which everyone in the group observes and exemplifies. This might seem like an abstract concept, but it means you can build an organisation that responds well to change, simply by starting with the culture that underpins those changes. 
A classic mistake organisation's make when implementing change is focusing solely on the functional aspects of their job; reporting lines, decision rights and formal processes. The importance of company culture is often underestimated because it is something that organisations are trying to change and is then seen as easy to abandon. 
The solution isn't trying to change the existing culture. Instead, change managers should try to make the best of an existing company culture and draw emotional energy from it. The trick is to analyse the state of things and identify culture traits in line with the change pursued by the company. 
When defining your culture for effective change management, here are some of the values and behaviours you might want to think about through the ADKAR model: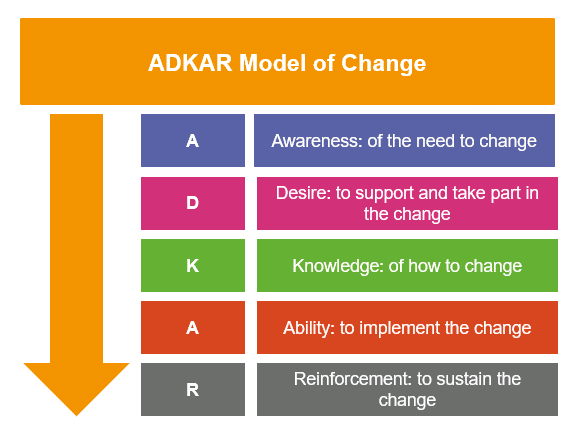 Promoting openness to raise awareness of change
Are you encouraging honest communication at all levels? Do your employees feel empowered to stick their hand up and provide feedback when things aren't working?  Change begins with the confidence to discuss ideas and admit that something is wrong. Ideally, you want to build teams that understand why change is necessary and what will happen if change doesn't happen.
Establish forums where problems can be tackled, issues debated, and solutions collaboratively worked on in an open environment. Provide clear examples of where change has worked well/badly in the past. Ensure that your organisation is being led appropriately by someone who advocates change and understands the current culture.
Encouraging accountability and desire to own change
Once employees are open to conversations about change, the next step is empowering your teams to take ownership and commit to making things happen. Allow your teams to understand 'what's in it for me?' and the benefits of changing.
As individuals start to openly embrace change, a willingness to adopt new practices and try new things spreads through the organisation. This could involve; coaching and engaging with leaders to demonstrate clear ownership of initiatives by being accessible and visible.
Nurturing curiosity to increase knowledge of change
Even with the best will in the world, your communication strategy has the potential to fail if employees aren't engaged with the messaging and curious about what is happening and changing in the organisation. This is often an area where businesses fall short as they don't attempt to build buy-in by getting everyone involved – therefore, culture changes won't and can't be nurtured. This is a crucial time to teach your teams how individuals experience change.
The key to creating understanding and building knowledge is through training and openness to what will happen; it is human nature to then become curious and want to learn more.
Enabling your teams with the ability to implement new skills and behaviours
At this point, change has been explored, there is a desire for change and knowledge has been shared. Now your teams can act on all the information provided; this can take time so it's vital to consider the time, activities and resource needed to develop new skills. For example, simply communicating how to change doesn't make it happen, people demonstrating the ability to act in a new way is when the change is realised.
Engage in two-way communication to enable people to be heard and ask questions and create interactive training sessions so your teams can learn by doing.
Positive reinforcement to cultivate a successful change environment
Many organisational changes are temporary as team members can revert to old ways of working which is a significant risk in implementing cultural change. It is important to continually monitor progress and celebrate success to ensure your teams don't feel neglected in the change.
This five-step approach significantly helps to embed change and create a smoother cultural transition. Although it may seem like a potentially long an arduous process, the important point to remember is that change underpins all projects! This approach will allow for full engagement and a more successful and durable cultural shift. For more information on change initiatives and strategy please contact Tiggy Robinson tiggyr@ninefeettall.com.