Why implement a Lean Construction Strategy?
In construction we know that cost, time-frames, quality and safety play a fundamental role in what is delivered. These are all tangible features which become all consuming once the project has begun and can lead us to take our eye off the prize – that is 'what the customer wants'. So, how can you devise a strategy which delivers the best possible results, to the greatest value for your client, with the utmost efficiency?
This is where Lean Construction comes in, the approach which considers the customer first.
Core principles of a Lean Construction Strategy
The core principles of a lean construction strategy are:
Defining customer value
Mapping the value stream
Eliminating waste at every step
Creating flow of work processes
Pull planning and scheduling
Pursuing perfection.
More detail on these principles can be found in our previous blog in this series.
Rolling out Your Lean Construction Strategy
Embedding Lean within your business is a significant undertaking and a behaviour change journey.  Think about the effort and time your organisation went on to embed a health and safety culture. This endeavour is not dissimilar, however the benefits are huge and well worth the investment.  So how can you break this down into 9 manageable steps: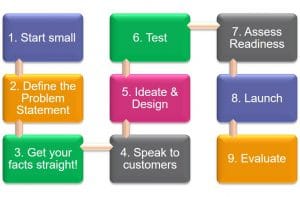 Start small
We recommend trialling your lean strategy in a particular area to demonstrate the results.  This allows you to learn as you go, build a track record of results, which you can then use to get more and more teams on board.
Define the problem
Begin by identifying the challenge or problem you are trying to address. Get clarity on which process or activities you are going to tackle and then ringfence that scope. Using this agile approach will allow you to put in place a defined and aggressive timeframe to analyse, design and test and trial a solution.
Get your facts straight!
At its heart lean relies on data, not assumptions.  As part of the value stream mapping and waste identification processes you will need to collect data and evidence to support your thinking.
Speak to customers
Engage your customer(s) in the trial. Talk to them about what they would like to see and which elements of your process add value for them, which do not and any value add they would like to see.  Even if you can't incorporate all their thinking in an initial trial, this information is pure gold and will be useful at some point!
Ideate and Design
Having conducted the value stream mapping and identification of waste, now comes the fun part. This is where ideas for solutions are generated. It is essential to involve the team who will be carrying out new improved processes or streamlined activities in this process as they know what will work and what won't. But that doesn't mean their assumptions can't be challenged to create debate and new thinking.
Test
Ensure your design is stress tested before it is trialled. This can involve getting team members to review the new process and test it will hold up against a number of scenarios, or working with customers to flesh-out any niggles. You should define the acceptance criteria that you will use to say whether a new process or activity is fit to roll out.
Assess readiness
Before you go live with your trial you need to assess whether your teams are ready to work in new ways proposed.  The key areas to review are:
Communications and engagement: Ensure you have identified the key internal and external stakeholders and have a plan for impacted groups
Impact assessment: Identify changes to roles and processes, communication and reporting lines and ensure there is a plan in place to effectively communicate and train out these changes prior to go live
Training needs analysis: conduct a TNA to identify any training required and ensure this is delivered before the changes are put in place and that mop-up/refresher training is available
Support requirements – identify what support the team will need when the trial is launched and ensure support routes are effectively communicated
Launch
Once you have assessed that the team is ready to trial the new processes or activities, the readiness plan should be put into action and the launch plan clearly communicated to the appropriate internal team members and external stakeholders. Progress of the trial should be tracked, like any other project, with communications maintained throughout.
Evaluate
Once the trial has finished, it is critical to run an evaluation to see whether the results demonstrate an improvement. Either way, the lessons learned from the trial should be captured and shared. Then the team can decide whether to implement the changes, iterate the existing trial to tweak identified challenges, or alternatively stop the trial and move to a new area.
Other key enablers
Working through these steps takes time and dedication and is a learning process. You will not get everything right the first time around, so it is important that your roll out is supported by other key enablers.
Having a clear vision
The fundamental belief of Lean Construction is that everything involved in the project should be working towards adding value to the client. To do that, you need your teams to have this clear focus and be bought in to this approach from the start.
Be clear on where you want to get to and share this vision with your teams early on. Make sure everyone understands how they fit into delivering that vision. Share the objectives and the pathways which will help you to achieve that vision and stay true to your values.
An interactive way of checking if all team members understand the vision is to ask them all to independently write:
What they think lean construction is
How your company's vision of lean will change what they do
How they can personally contribute to this.
Strong Leadership
"The best leaders aren't distinguished by their competencies, skills or personality. They stand out because they are in touch with what they care about and because they go for it."
(Steve Radcliffe, Leadership Expert)
Strong leadership isn't about having super-human multi-skill capabilities. It is ultimately about getting people to trust you because they believe in you. To implement  a lean construction strategy, you need to have strong leaders within your team who can help to achieve the buy-in of the people who make the project happen. It is easy for leaders to demonstrate support for lean projects when things are going well, however it is when projects are behind, or there are challenges that the rubber really hits the road. This is when leaders need to step up and show that the new ways of working that have been put in place really matter and that reviews and checks remain a priority, even when projects are under pressure.
Continued communication
It is vital that communications do not stop after the launch of a lean initiative. With any behaviour change, it takes time for changes to embed. Share learnings and success from trials to keep the conversation and practices alive. Building a network of lean champions who can talk about their personal experiences of working in lean ways can be very powerful.
Continued investment in training
What do you do when the project demands use of a new process or tool you are not familiar with? If you are staying true to your lean strategy you make sure the necessary training is in place. Investing in developing skills and competencies within your team will be fruitful for future projects.
Importantly, don't simply react to new skill requirements, plan ahead and proactively consider what training your staff will need to avoid any delays.
Embedding Continuous Improvement
Known as the Deming cycle, this infinite cycle allows for ongoing improvement within a lean construction strategy.  This cycle needs to be embedded into your project processes.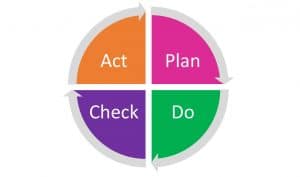 In the plan stage you establish your objectives and ensure you have the team bought in.
The strategy is then executed as you begin to do the project.
You continuously check and analyse the data to ensure efficiencies and minimise waste
Then act on areas which can be improved and incorporating them in the next plan.
Make time to reflect on your project, discuss what's gone well and what can be improved with your team. Add it to as an item to the agenda of your next large team meeting and encourage open discussion. Not only will this identify areas of improvement, but you will also see a positive increase in team engagement. 
Applying these tips should help you to effectively roll out your lean strategy in a practical way, learning and sharing successes as you take this journey. If you require further information or to discuss the ways Nine Feet Tall can help you to deliver value to your customers and minimise waste please contact DavidD@NineFeetTall.com