What is an ERP system and what are the benefits?  
Enterprise Resource Planning, known as ERP, is used to streamline core business processes into one integrated system. By implementing ERP software, data from across business functions is pulled into a central database, acting as a hub connecting multiple facets of an organisation. As a result, many benefits can arise, including increased productivity, enhanced reporting, and stronger collaboration. Ultimately, an ERP transformation project can radically increase the value generated from an organisation's resources, hence why 53% of IT executives see ERP as an investment priority (Truelist). 
However, successfully leading an ERP transformation project and realising these benefits is no simple task. For example, 75% of these projects falling behind schedule or exceeding the budget, and over 60% having a negative return on investment (McKinsey).  
So, how do we beat these odds? What do we need for a successful ERP transformation project? 
Here are 5 key factors for a successful ERP transformation project: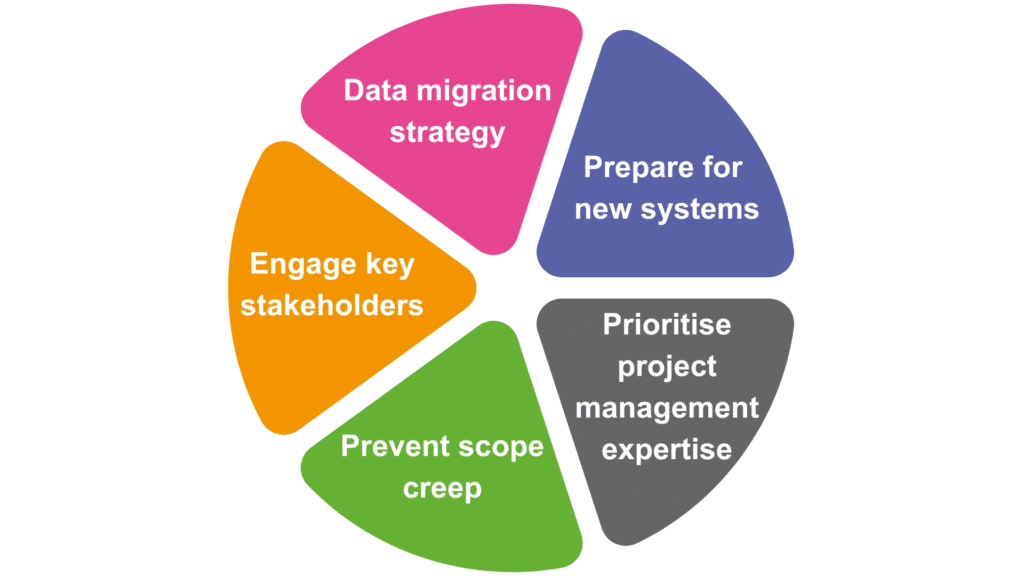 It is critical to identify key stakeholders at the earliest time possible so that a plan can be created to keep them engaged and updated throughout the project. Regular communication with these stakeholders and ensuring a clear vision for the transformation is critical to getting organisational 'buy-in'.  
Create a strong data migration strategy 
Without a thorough strategy, migrating data from your legacy system into a new ERP system is risky as it often causes project delays and increased costs. Prior to the migration, your strategy should include auditing and cleansing of legacy data, ensuring only accurate and relevant data is transferred, leaving behind redundant information. Dedicating the time to maintain and govern your data post-implementation should also be incorporated into your plan. 
Prepare your teams for the new system  
People are at the heart of every transformation project, so ensuring your team understands the need for a new ERP system, how it will affect their day-to-day processes, and how to navigate it, are key to creating a positive change experience. An effective communication plan, detailed training plan, and providing a forum for two-way communication are some of the essential methods a change manager can take to ensure teams are prepared. This also minimises resistance and feelings of uncertainty.   
Prioritise project management expertise  
Delivering an ERP transformation project successfully can be extremely complicated. Without sufficient expertise, the desired benefits are unlikely to materialise on time or within budget, especially as 84% of companies want their ERP system implemented within a year (SoftwareConnect). Prioritising project management expertise at the offset will ensure the money and time invested into your ERP transformation maximises the value added to your organisation.  
Because of the expectations that an ERP transformation brings, scope creep is a common problem that can hinder successful delivery, with stakeholders often adding requirements throughout the project without a formal review process. Having a clearly defined scope in the Project Charter, establishing a change control process, and engaging stakeholders early on, amongst other methods, can help keep scope creep at bay.  
ERP projects are complicated, and often avoided due to the scale of work involved. Don't worry, we get it, it can be tough… but that's why we're here! If you've got an ERP project that has stalled, or you're are interested in getting your project off the ground, then we would be happy to chat and offer our expertise. All you need to do is send us a message.