The future of work has been a key focal point for organisations since the pandemic hit, with real questions being asked about how, when and where will we work in the future. Remote working has proved to be universally possible for non front-line staff, so how can businesses ensure they harness the benefits of remote working practices that employees are coming to expect going forwards. Have companies embedded flexible working options into policy? Do Organisational Designs support a mixed and more matrixed working environment? How appealing is your organisation to prospective candidates?
The much-anticipated end of 2020 and the hope for a better 2021 were quickly put in perspective by the third lockdown announcement in January.  No-one knew how this would affect the broader employment market.
As we get deeper into the year it's clear that the much-referred-to 'bounce-back' has started. Sectors like hospitality have struggled, but for the first time since the pandemic began, the 'net employment balance' (the proportion of employers who expect to increase staff levels versus those who expect to decrease) has risen to a positive figure.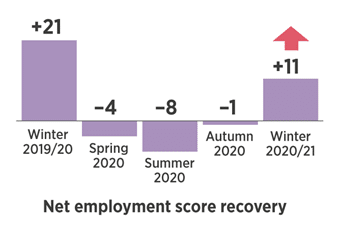 Source: CIPD https://www.cipd.co.uk/knowledge/work/trends/labour-market-outlook#gref
If this trend continues, that the next 'burning' subject for employers to tackle will be where their teams can work.  The likes of Twitter and Spotify broke early in announcing indefinite remote working for their staff and we've now seen businesses like Fujitsu and Nationwide also publicise their plans.
But the smart employers will go further than just the question of where we work. In the past, we've talked about obtaining work-life-balance.  But in these times (and those ahead of us) should we be talking about work-life-integration and what the difference is?
Work-life balance
Work-life integration
When
Eight hours, core working hours 10-4
Individual chooses when they work.
Where
Usually office, with occasional home working possible
If targets are met, work can be done anywhere.
Life
Work comes first with a nod to home life
Flexible employee contracts fitting around needs of employer and employee which considers:

* Non-work commitments

* Shorter working weeks

* School holidays

* Sabbaticals
This is where employers can stand-out.  There will come a tipping-point, probably in the non-too-distant future, where the balance of power will shift. We're still in an employer-lead market, where there are a good amount of people applying for roles. When this tips the other way – and the market becomes candidate-lead, employers will need a different suite of perks and benefits to attract the best talent.  While Fujitsu and Nationwide are hoping that they can profit (by attracting talent) from the press releases about their home-working strategy, surely the businesses that will truly win-out are those that can offer better work-life-integration.
Covid-19 has changed a lot of things in our lives, but in recruitment the after-effects of the pandemic will completely disrupt traditional methods of attracting talent.  Simply having a swanky office with a pool table will no longer cut it.
The famous 'War for Talent' continues, but it'll be an altogether different fight than twelve months ago.
If you would like to discuss how to get your organisation "fit" for the new look recruitment journey, please contact EstherM@NineFeetTall.com