Digital adoption is the embrace and acceptance of all digital assets and applications across an organisation to drive value cross functionally and improve the employee experience.
COVID has played a pivotal role in the trust and acquisition of digital assets and software from HR to Operations. Although brilliant as products and services, the increased implementation of software, applications and technology also brings a host of new challenges for firms to navigate. Some of these include:
Employee adoption due to resistance, understanding and the scale of training required
Investment in Change Management activities to improve business readiness, communications and planning
Lack of Digital Transformation strategy and management
Cultural readiness
Keeping up with customer needs
Lack of IT related skills and competencies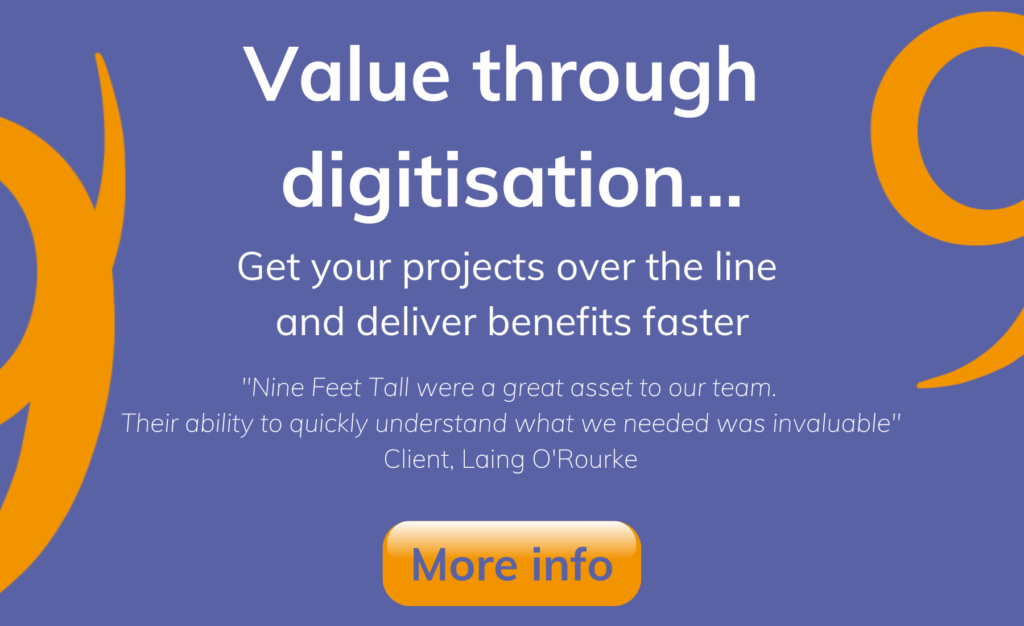 Though it may seem overwhelming, the above challenges can be overcome with the right strategy.
As a team, Nine Feet Tall has collaborated and discussed Digital Adoption principals to combat these challenges and improve scaled digital transformation projects. Having worked on a range of digital transformation projects, from implementing a new Learning Management System to global ERP projects, our team of expert consultants have a firm grasp on what it takes to get your digitalisation projects successfully implemented across your organisation.
So, we come to you now with our five strategies to boost digital adoption:
Change Management
Investing in a good Change Management strategy will support the project through identifying aspects of the change that may cause resistance, confusion or fear amongst employees and shift these feelings to excitement and commitment through robust yet bespoke communications and change activities. This is all about your people and creating a shared mindset.
"Organizations with a thorough change management strategy are 6x more likely to meet or exceed digital transformation objectives." (Prosci)
Comprehensive Training Strategy
A well-planned training strategy with a variety of training interventions (demos, face-to-face, instructor led, eLearning etc.) will be the key to a successful adoption from a people perspective. Your workforce needs to feel confident and excited about new technology.
The goal here is to erase the unknowns and confusion about why your business has invested and to highlight the value drivers that will lead to better results. Carrying out a Training Needs Analysis, identifying external & internal trainers, and understanding how end-users learn will be pivotal to get off the starting block. L&D and Change Management will be fundamental to the success of the training strategy.
Structured Digital Adoption Strategy
It is imperative that when creating a strategy there are clear objectives that have been set. It is useful when setting objectives to use a framework like SMART (Specific, Measurable, Achievable, Relevant & Time-bound). Alongside the objectives there must be clear milestones to be hit to ensure you can track progress among phases and keep in touch with stakeholders.
Similarly, having clear and defined success metrics will allow you to report on the success of a project. These metrics may be imperative to Senior Management Teams or even Venture Capitalists commitment. It would be beneficial to look to a consultancy to bring in a Digital Adoption Specialist to support the strategy.
User Optimization
Digital Adoption does not have a one-size fits all approach, even if the product is an out of the box solution. People are a business's biggest asset and ultimately will be the end-users for technology/software/applications. You should be integrating a feedback and ideas channel to adapt the technology to fit your business.
A user-centred approach will rely on testing new ideas and learning from training or product feedback. This will also be informed by the success metrics set in the Digital Transformation Strategy.
Cultural Shift
A company's culture can influence the resistance that can be felt from employees. It is important to learn from example. Selecting Digital Transformation Champions to be advocates for the new technology can influence stakeholders as well as teach users how to get the most out of the tools/applications. There is a huge aspect of cultural adoption when it comes to digital adoption.
Digitalisation projects can be daunting, but this is the bread and butter for our team of expert consultants. It all starts with a conversation, so feel free to contact us here.