"But what do they actually do?" – the concept of a PMO can often elicit a sense of confusion but is an important, yet commonly overlooked function. A productive and effective Project (or Programme) Management Office (PMO) function can be the difference between a well-run and successful project and a poorly planned one with inefficient communication channels. Having a high performing PMO at the heart of a delivery team really does make the world of difference.
Although each PMO will have a slightly different focus, responsibility and dedicated resource, there are some fundamental questions that you should ask yourself as a project manager/sponsor to ensure you're PMO is functioning as efficiently as possible:
Is your programme plan the single version of the truth?
Reviewing a programme plan that has certain sections out of date or without the latest information can be frustrating as the progress of activities becomes unclear. Not having a proper understanding of the interdependencies between workstreams because different plans have been pasted together into one unwieldy MS Project plan can be a real blocker to progress. The best PMOs will understand the critical path for programme delivery and will be able to support the leadership team in understanding how delays, mitigations and changes will impact delivery. Try to ensure there is a clear owner of the plan with a defined system for edits, e.g. keeping the latest version on an intranet or shared folder.
Is your risk and issue log only updated when something goes wrong?
Hopefully, your PMO will be able to show you a clear and concise RAID (Risks, Assumptions, Issues and Dependencies) Log, but too often it acts as a repository for other team members updates and is not used as an active tool for managing the programme on a day to day basis. Ideally, the PMO will be on the lookout for new items to add to the register and will be updating this document proactively, without waiting for the team's weekly updates to be submitted. Equally, when used effectively, this tool will act as a call to action for team members to resolve the items recorded, ensuring the PMO RAID log does not grow to an unmanageable size. Try scheduling regular sessions that are dedicated to updating the RAIDs and creating clear communication channels to feed into.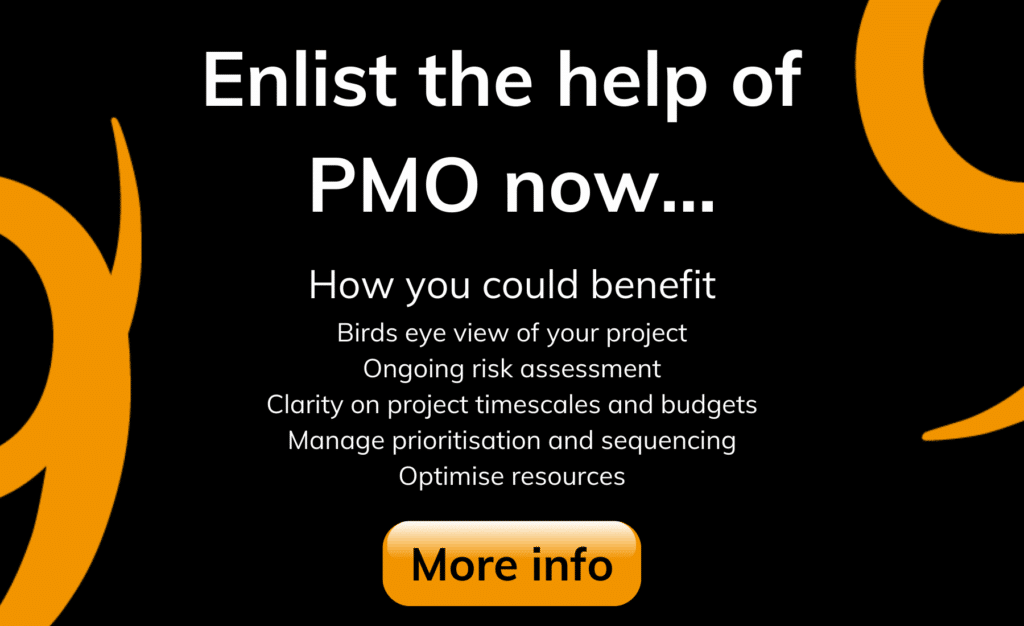 Are important programme decisions recorded by email?
Effective governance around decision making is a key function of a high performing PMO team. However, a lack of suitably detailed documentation is a recurring problem for projects and programmes of all sizes. Taking minutes of key governance sessions is critical, but they should include enough detail to stand the test of time and be stored appropriately to ensure they are accessible for future use. Try creating a dedicated section in the programme RAID log to record decisions across the programme. When communicating the risks and issues, make a habit of including and verifying new decisions made – this also helps to keep open communication channels.
What is the quality of the team's reporting?
Timely team reporting is a good indicator of a programme's health, and PMOs are responsible for ensuring this data is as useful as possible for the leadership team. If updates are being collected and not challenged appropriately, this can create an area of concern. The best 'highlight' reports will summarise key messages, identify missed data and provide the opportunity to take action, instead of acting as a retrospective note of what's happened in the previous weeks and months. Try making a list of all the current programme reporting, what they contain and their audience. Analyse if anything is missing or can be streamlined so the reporting is more effective.
Are the PMO really thinking about the demands they are placing on the team?
What works best for those in the PMO isn't always the same as what would really help those who are leading teams in the programme. Whether it's when updates are being requested, the timing of meetings or established ways of working, it's easy for programmes to fall into a stale routine. Establishing a PMO rhythm is important, but team morale can be sapped unconsciously if processes are not reviewed often enough. Try analysing how effective the timing and frequency of requests from the PMO for information from the programme team is and whether there are any other methods to enhance this.
So, does your PMO need an upgrade?
If any of these points rang true, the good news is all these areas can be successfully addressed. All PMO functions are capable of operating more effectively and minor enhancements can make a huge difference. At Nine Feet Tall, we do not believe that one size fits all and always tailor our service to improve PMO results to leave a lasting, impactful change with those we work alongside. Don't neglect your PMO, give it an upgrade!
For more information about PMO or for strategic project advice, please contact Esther McMorris (estherm@ninefeettall.com).