Proud finalists of the Culture Pioneer Awards 2022
We are very proud to be finalists for the Culture Pioneer Awards 2022 for not just one but for two categories! Check out the full list of finalists and learn more about the awards by HRZone here.
Our objectives for promoting cultural change and prioritising wellbeing are driven by an integral understanding of the value of our people. At Nine Feet Tall we say: "our people are our product."
As an organisation which supports our clients to deliver sustained cultural and behavioural change, it is critical that we place our own team's wellbeing at the centre of our culture. We strive very hard to create a family environment where our team feel they have our unwavering support, as we know that if our people aren't happy our organisational performance will suffer.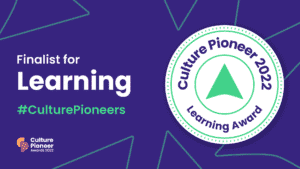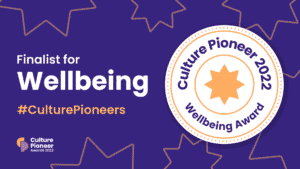 How have we created this?
At Nine Feet Tall we pride ourselves on our people focussed approach. That is why we have successfully developed and implemented three core initiatives to champion a healthy culture:
               Culture Club
A workstream open to the entire team to join and input their thoughts around everything related to culture. Here we have open and honest discussions about lessons learned and feedback from our experiences.
               HAY (How Are You?)
A programme which strives to tackle physical, mental, social, emotional and financial wellbeing through initiatives, resources and good old-fashioned conversation.
               L&D
Our commitment to Learning & Development means our team have the skills to deliver our service offering and grow the business. Our team understands the importance of upskilling others, and we actively support our team to develop rounded skills so they can become future leaders.
We're very proud that our initiatives and programmes which support the wellbeing and development of our team have been highlighted through becoming finalists in this year's Culture Pioneer Awards.
We're looking forward to connecting with other organisations who have also committed to bettering their ways of working, and learning more about their journeys. See you on the 15th of September for the awards!
If you have any questions about cultural change or development, then our team of consultants would be more than happy to have a chat via our contact us page.