It was recently confirmed that inflation reached a 40 year high of 11.1% in October 2022. The knock-on impact of the rise in the cost of living is having a profound effect on charities reliant on  fundraising activity. Charities need to act now and diversify income streams to futureproof finances as traditional funding streams may not deliver well in the next five years. 
What is the impact on charities?
Due to the rise in inflation and the impact of the war against Ukraine, many households are having to streamline their daily budgets to adjust to the increases in food, energy and fuel prices. A new report by Pro Bono Economics and the Charities Aid Foundation reported that due to inflation, "the £5.7bn of total donations made to UK charities in the first six months of 2022 would be worth £500m less in real terms by the end of the year."  
This is on top of an existing dip in donations from the last year. Charity Link reported they have "already seen 1.6 million less people give to charity in 2021 than in 2020." Higher bills clearly mean a reduction in the donations available for charities.
To add to the challenges, charities are also facing higher utility costs and overheads themselves.  According to Charities Aid Fund, "over 80% of non-profits expect to struggle with increased cost of utilities for their own venues, as well as managing wage increases."  
How to mitigate financial risk  
Times are tough and the answer lies in not having all the eggs in one basket. Revenue streams fluctuate over time, so you may already have several streams you can rely on. No more than 25% of your income should come from any one source and unlocking new ways to bring in funds will be vital going forwards. Here are our top tips to weather the impending financial storm and diversify income: 
Use external benchmarking data to help set realistic KPIs to work to. This will help you to budget and manage expectations.

 

Analyse the current funding environment – what has changed, what are likely future trends? You can use a model like Potter's Five Forces or PESTLE to understand the landscape. 

 
 The PESTLE model: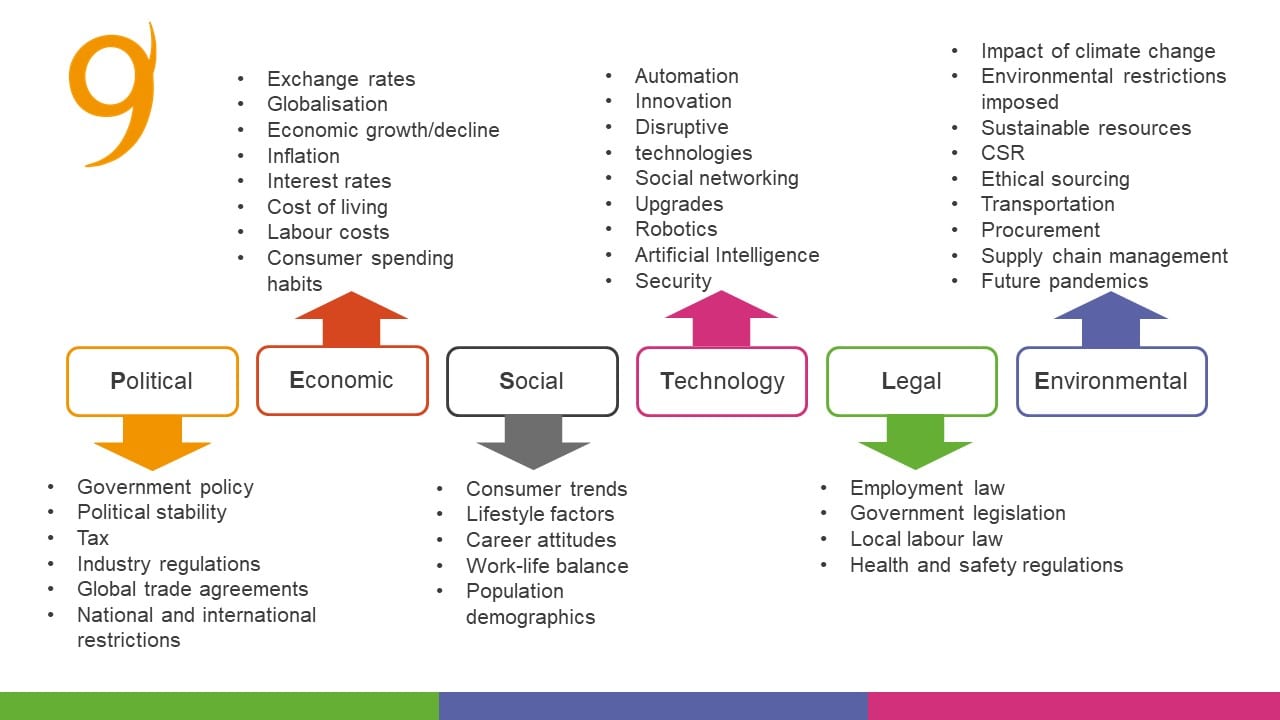 Segment your fundraising data properly, this will help you to understand any areas of opportunity and learn more about the patterns and behaviours associated with your fundraising.

 

Speak to other charities. You can join networks and liaise with connections to understand what other charities are trying and share experiences. 

 

Identify your weaknesses and biggest opportunities. Are you able to pivot in some areas and drive growth in others? Often independent facilitators can help to dig deeper and conduct diagnostics. Areas you might identify as weaknesses or opportunities can include:
A review of your digital supporter offering – is it relevant, easy to navigate and engaging? This includes digital events and your corporate supporter journey.

 

Your offline supporter journeys, why do they come to you and is it easy?

 

Look at your tech stack. Is it fit for purpose or are there efficiency gains to be made?

 

Are you using your resources to focus on real areas of value?  Where does demand for your teams come from? Is it internally focussed or is it value add? 

 

Do your teams need any training? Can you identify any weaknesses in adoption of systems?

 

Are you exploring all legacy opportunities? It was reported this year that 44% of Gen X and Millennials are planning to leave a gift in their will to charity. 

 
Once you have identified avenues to pursue and weaknesses to address, you can build your strategy by:  
Setting clear objectives, targets, and timeframes.

 

Developing an agile approach, trying things out, reviewing results, and taking lessons learned. 

 

Considering a short-term, medium-term and long-term fundraising strategy.
Charities provide vital services to those who depend on them, so your survival is critical. Weathering the financial challenges so soon after the pandemic means your charity will have to re-evaluate traditional fundraising strategies and explore new avenues. If you need any help to get your new strategy established get in touch with us today.  
 References: 
 https://www.civilsociety.co.uk/news/almost-half-of-millennials-and-generation-x-plan-to-leave-a-legacy-gift-in-their-will-survey-finds.html