A Brexit deal has been agreed. The economic catastrophe which would have been caused by leaving the EU without an agreement has been avoided. Nevertheless, the coming months will pose significant challenges to organisations in the rush to achieve compliance with the new rules.    
The late announcement of the deal on 24 December means that the transition period is now both rapid and immediate. For retail and manufacturing industries reliant on international trade and overseas production, disruption to operations could up-end sales.   
Scaling and delivering projects at pace isn't easy. We know this from years of experience. Here we look at how the changes have been received and advise on how to approach the transition and optimise your processes for a smoother journey.   
Reaction to the changes  
The vision was of apocalyptic chaos – the reality has been extra red tape and a need to change processes to keep supply chains moving and to be compliant with post–deal needs. New checks will be introduced at borders – including safety checks and custom declarations.    
Some, such as the Road Haulage Association, have termed this the 'invisible chaos' of Brexit reality (2) as new documentation and mandatory requirements are the post–deal reality for those in EU-non EU supply chains. Throw in the necessary COVID-19 tests for hauliers and delays in these supply chains look inevitable.   
Some SMEs have made decisions not to trade and export outside of the EU due to the costs of adjusting. For others, this is not financially viable as they depend on international sales opportunities. Despite some preparations made in 2019, the absence of clarity on the actual changes and their implications has meant there is still much work to do now. Even the best prepared will need to review and refine their processes.   
For those manufacturers trading across borders the changes are significant with a need to prove your goods meet new rules or be subject to additional trade tariffs. As Simon Nixon has commented in The Times (3):   
"the biggest headache for most firms is that trade with the EU lies in the so-called rules of origin, which may force many to re-engineer their supply chains and some to re-examine their entire business models".  
What does the deal mean for operations?   
In our earlier Brexit thought piece (4) (issued before deal completion), we forecasted a need to rapidly initiate projects. We also stressed the advantage of agile delivery to rapidly bring in business benefits.   
With more clarity now on the deal specifics, this need is still valid – however there is a very real requirement for process changes for compliance rather than wholescale change to ensure compliance. The specific needs will clearly vary across organisations and depend on the levels of pre-deal preparation work completed.   
This offers the opportunity to fine tune processes and ensure systems align with business needs. Organisations can secure wider efficiencies and benefits by reviewing processes to bring bottom line improvements through efficiency-based savings and streamlining of ways of working.  
Process Optimisation 
We can help you ensure Brexit–related compliance and to also to deliver tangible efficiency results to benefit profitability. You can learn more about our Business Process Optimisation services here.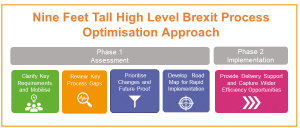 What Should You Do Now?  
Rapidly convene a project team to make an initial assessment of the rules of origin and other compliance implications for your 

organisation

 – 

outcome 1

: critical process gaps understanding.

 

 

 

Develop a high-level plan for delivery of critical changes to enable decision

–

making on how you will approach and resource delivery – 

outcome 2

: benefits linked plan for baselining 

delivery

. 

 

 

Use this opportunity to take a wider view of change and transformation in your organi

s

ation. Identify the other transformation opportunities and efficiency opportunities which you may be able to use in your change portfolio. This could offset some of the costs of Brexit

–

related changes and ensure you come out of the transition period stronger, leaner and successful in your chosen markets – 

outcome 3

: portfolio approach to change and outline business case for further 

transformation

 

 
Nine Feet Tall are experts in helping organisations to rapidly scale and deliver projects to adjust and transform their processes. Please contact us today for advice and support on your post Brexit transformation journey. EstherM@NineFeetTall.com 
 References: