Tackling the disruption caused over the last two years has led many housing organisations to reassess and reimagine what future success looks like. There has been an awakening leading many to look at the new landscape and consider their plans for process, technology, and people into the future. But where do you start? 
Processes 
Looking at how work gets done is as important as the where and the when. Many Housing Associations will be examining their processes to understand where the efficiency gains lie and adopting a process improvement framework can be advantageous for identifying changes needed. 
At Nine Feet Tall, we recommend using an agile, iterative approach to implementing and embedding change. This approach enables housing providers to see value and benefit rapid whilst allowing for the opportunity to test, review, and refine ways of working to ensure that the changes deliver the intended outcomes.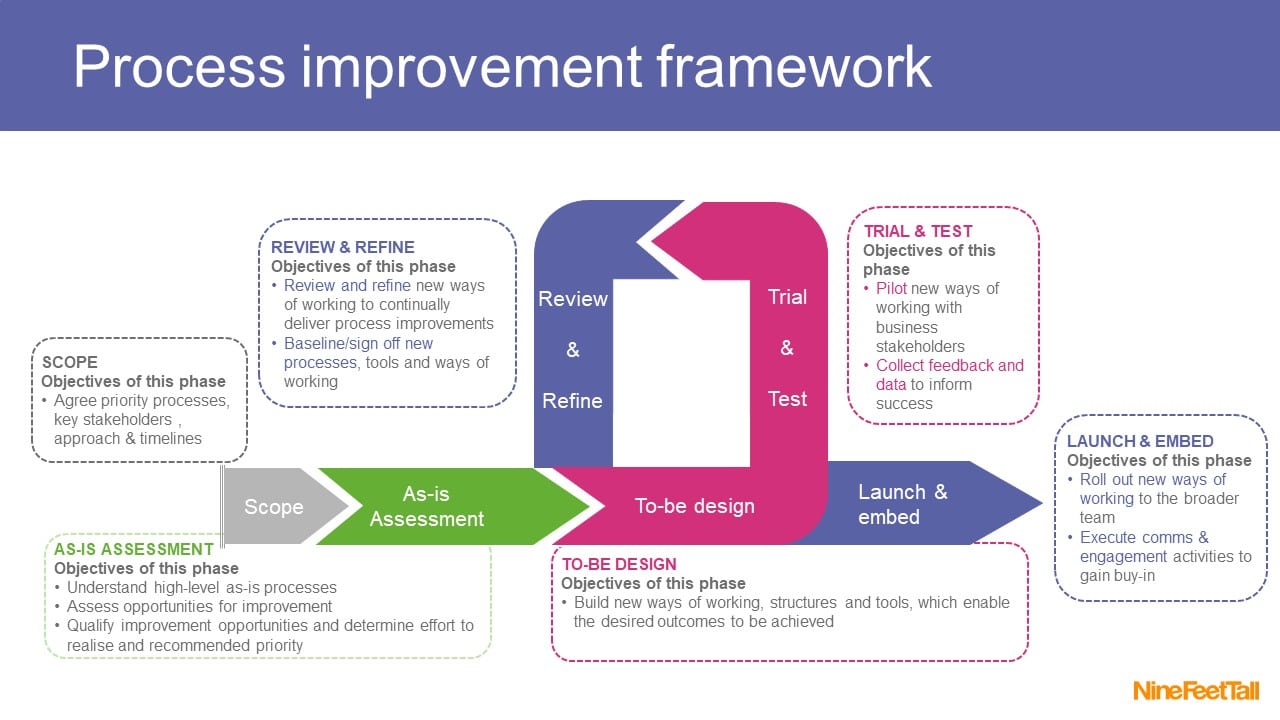 Digitisation undoubtably plays an important role in establishing efficient processes. But ahead of the drive for digitisation, having a sound understanding of the key processes is crucial. Our top tips for assessing readiness for digitisation are to: 
Create a centralised and embedded catalogue of all critical processes, with roles and responsibilities clearly identified.

 

Use heatmaps to identify the maturity of digitisation and areas of opportunity.

 

Create a roadmap that sets out the priorities for the organisation to support effective communication to all colleagues and, potentially, customers

 
Monitor and report progress with measures that matter that are agreed upon by all stakeholders

 
Technology 
Technology is the catalyst for improving customer experience and building productive relationships. As an example, the right tech will enable communication to be more effective and enhance engagement with customers to prevent wasted visits by repair operatives. 
Collating, maintaining and analysing data should be business as usual in the quest for data driven decision making to deliver improved service delivery. Having a CRM gives you a platform to easily capture and display information streamlining transactions and unlocking insight to create a powerful customer experience.  
If your core housing and asset management systems don't provide your organisation with the tools it needs to succeed, can you explore opportunities to upgrade or invest in new tech?  
Inside Housing reported on the benefits of introducing Smart Technology into social housing: "For social landlords the asset management advantages of using smart technology to manage homes are huge, including using monitoring systems such as leak detectors or smart thermostats for maintenance and environmental issues; fire door safety devices and remote smoke alarm testing to streamline compliance checks; or assisted living sensors to keep in touch with residents – so Internet of Things (IoT) technology should be part of an organisation's digital transformation plan." 
The world is changing, and it would be crazy to ignore some of the advances in innovation that we have seen introduced. Because of the disruption, organisations have embraced the chance to act quickly, welcome creativity and adopt ideas that would previously have been deemed "impossible". This is the time to seize the opportunity to unlock innovation and make a step change in the services you deliver.  
People 
Transforming how, when and where we work has been a concept bubbling away as "the future of work" for some time. Every sector is now assessing how to make a success of new ways of working which allow for teams to be both on premise and work remotely. This has led to a change in organisational culture as teams adapt to new methods of communication and collaboration effecting productivity and morale. 
Culture is often overlooked, which seems strange as it underpins all that you do including the recruitment and retention of the people delivering your services. By encouraging a culture of flexibility, understanding and trust and allowing for the decentralisation of working spaces you can make a success of hybrid working and create a different but positive culture. 
Driving long term change also need to address purpose. What are you in business to do, how are you different and is your operating model sustainable? The pandemic has given us the opportunity to reimagine the legacy that we all want to leave behind, addressing purpose allows us to decide this. 
What next? 
If it feels like you are ready for change but aren't sure how to get started, get in touch for a free consultation. Contact EstherM@NineFeetTall.com  
Reference 
https://www.insidehousing.co.uk/sponsored/sponsored/how-can-social-housing-be-smart-about-technology-data-use-and-privacy