It's that time of year again. For a couple of months football takes a back seat and rugby takes center-stage. It's the Six Nations…
With a whole host of sports fanatics in the office we often find ourselves comparing the work we do at Nine Feet Tall to the world of sport. With all the hype and build up to the Six Nations reaching fever pitch the last week has been no different. Just like business, there is always a critical factor in sport that's going to make the crucial difference and see a team succeed above everyone else. Subsequently, this led to a furious debate as to what the critical factor is going to be for this Six Nations. So, what did we decide the critical factor would be and how did we get to our conclusion?
A number of us recently attended an Agile Project Management course and we inevitably started to draw parallels between this and the upcoming championship. As we've touched on in previous thought pieces, Agile Project Management is an approach that adopts the principle that projects shouldn't be planned in microscopic detail at the start, but rather planned incrementally due to inevitable changes expected along the way. Change is something we've all dealt with, whether it be the supermarket running out of fresh milk, moving house, accidentally cutting our fingers while chopping vegetables or missing a flight connection.
In sport, particularly team sports like rugby, it's no different. Players are confronted with constant changes. From the wrong national anthem being played (it has happened before!), controversial referee decisions, a teammate being carded and sent off, the noise of the heckling fans, tactical changes by the opposition, a teammate incurring an injury, closing the roof, weather changes which impact the playing surface and speed of the game and so the list goes on. As a result, having a minute by minute plan for the whole match isn't going to be that effective.
As Agile Project Management stipulates, change is inevitable throughout. But what it doesn't explain is how we each react as individuals and, as a result, a team. However, the Kubler-Ross change curve, based on a model originally developed in the 1960's by Elizabeth Kubler-Ross to explain the grieving process, is a common tool used to explain how people react, feel and deal with change. It is broken down into the following steps: shock, denial, frustration, depression, experiment, decision and integration.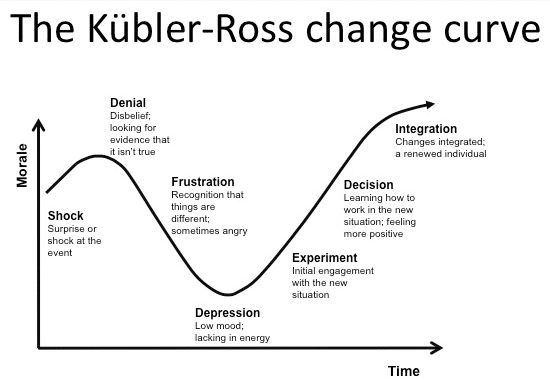 If we adopt the change curve into a rugby example, let's say that talismanic England player Owen Farrell suffers a tournament ending injury. The rest of the England team may initially experience shock or surprise that they have lost their best player, subsequently looking for evidence that the injury isn't as serious as first feared and that he may come back much quicker than the initial estimate. A huge potential differentiator for England's performance thereon after could be how quickly they're able move on from whatever has happened and move to the Decision phase on the Change Curve, where they learn how to perform with Farrell's replacement in the side. So, what we are saying here is that the speed at which the teams are able to move from Shock to Decision and Integration on the Change Curve will be a good indicator for which team will win the Six Nations.
Let's not forget, there will of course be additional factors that will play roles in determining which countries team will be crowned the Six Nations Champions. But with such small margins between the teams, our bet is on whichever team can adapt to change the quickest.