Earlier this week, Nine Feet Tall hosted a Round Table Discussion Event for the Housing sector. The themes discussed focused on sustainability and the green agenda and the event was attended by representatives from Housing Associations around the UK.
The event started with a presentation by Donna Cezair from First Choice Homes Oldham (FCHO). Donna shared details of FCHO's approach to Zero Carbon where they are delivering three interlinked strategies: Development, Asset Management and Sustainability. A key area of focus for them is to highlight the potential impact of future key policy and legislative changes to stay ahead of new regulations.
Donna stressed how identifying the key challenges and opportunities for FCHO and their customers is vital. Esther McMorris, CEO and Founder of Nine Feet Tall led a discussion around key success factors to deliver against the green agenda. The key themes that were identified were around
Data – making sure customer and asset data is reliable and accurate to inform decision making and track improvements.
Customer engagement – beyond just training – this is getting customers involved in shaping and delivering the various initiatives.
Skills, capability & culture – making sure these are aligned to the future plans and embedded across the organisation.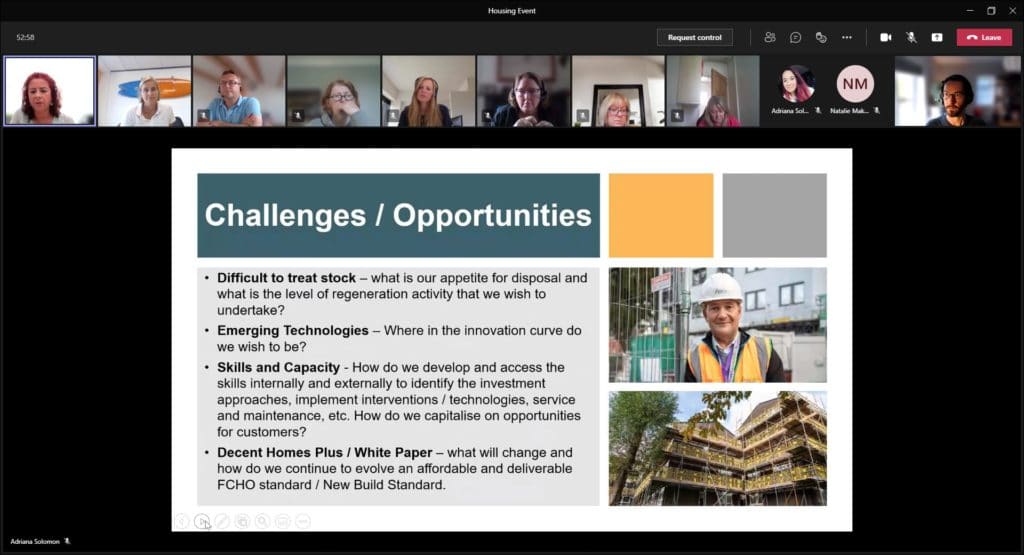 Balancing emerging technologies with business as usual (BAU) is a challenge facing the Housing Sector and time was spent discussing how to best achieve this. Simon Adams, Senior Manager from Nine Feet Tall, said "for the housing sector, delivering BAU for their customers is an essential responsibility. Technology enabled transformation can enable day to day deliverables to be managed more efficiently, but sometimes initiating these projects can be challenging. Today's discussion has helped us to understand where the opportunities lie and explore ideas to overcome the barriers."
Nine Feet Tall are working with clients in the Housing sector to deliver complex change projects, such as single view of the customer, technology implementation and automation and digital adoption. If you would like any more information, please contact EstherM@NineFeetTall.com